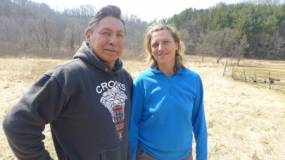 Juliee de la Terre holds an MS from the Gaylord Nelson Institute for environmental studies at University of Wisconsin Madison. She has been an activist since she was a child helping her mother care for injured wildlife. She owned a chemical free landscaping business for almost two decades which emphasized removing lawns and restoring native plants. As an environmental consultant she assisted the Ho-Chunk Nation in efforts to design and implement an place based ecological immersion project on their land near Black River Falls with the intention of immersing young tribal members in nature while learning their language and culture. Recently, she assisted Ho-Chunk Tribal member William Greendeer in introducing the Rights of Nature into the Ho-Chunk constitution. She maintains her bog called "Sacred Water Sacred Land" about the sacredness of al things and also "Heart of the Ho-Chunk" with William Greendeer about Ho-Chunk culture and the environment. She is a professor of natural science at Viterbo University.
William Greendeer is an elder in the Ho-Chunk Nation whose territory recently spanned WI, MN, IL and IA. He is Deer Clan and member of the medicine lodge. His first 8 summers were spent in a lodge and he has a deep connection to the natural world. William experiences sacred connection with the natural world and offers prayer when harvesting a plant or animal. He is teaching how to live in good way on his land in southwest WI. He hopes to rejuvenate his old farm with native plants and also by protecting the beavers that make their home in his valley. His family's land and many of his tribal members' land have been affected by frac sand mining activities in addition to the damage caused by the cranberry growing industry in southwest WI. He introduced a rights of nature amendment at general counsel in September with 3/4 of the tribal members supporting it. He hopes have the rights of nature in tribal law will help the tribe protect their sacred land, water and all our relations.
Browse all of Derrick Jensen's Resistance Radio episodes.