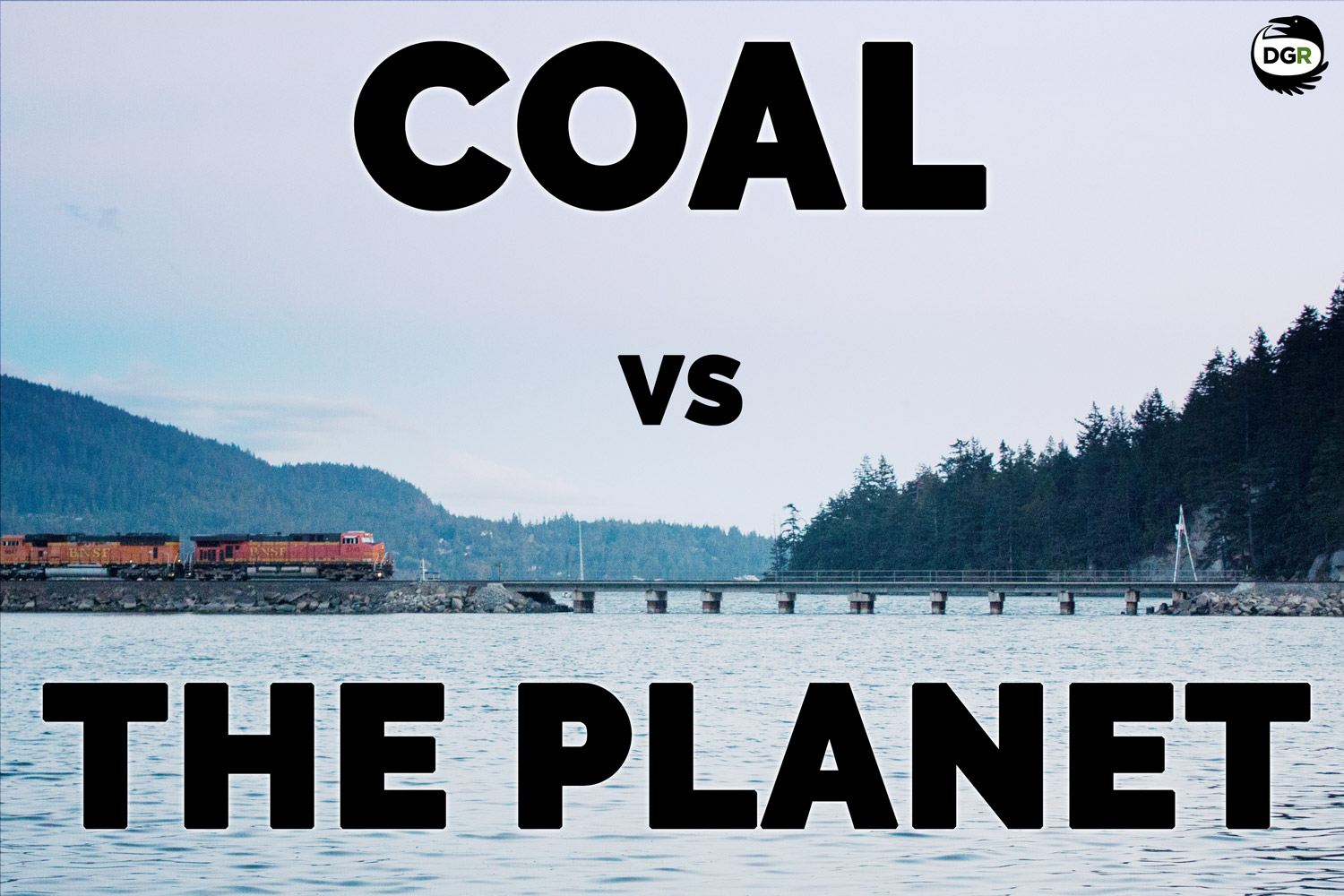 One week ago, three activists from Deep Green Resistance blocked a coal train in Bellingham, Washington. One climbed a tripod on the tracks, and when he was taken down two others locked onto the train further down the line.
All told, the blockade held for 12 hours. With only three arrests, this is one of the most strategic and longest-lasting train blockades we've ever heard of.
One week later, all three have gone through their initial court appearances and have pled not guilty. The legal situation continues to evolve, and the case will take a long time to conclude. But one thing is for sure: they could use some legal support.
We've started a fundraiser to help these activists pay for legal support and other costs associated with their brave action. Thus far, we've raised about 25% of the funds we set out to gather. Can you help us by donating or sharing?

In other news…
Media Coverage and Death Threats
Despite the blockade, media coverage has been scant. The Associated Press wrote one halfhearted article, and another (moderately better) piece appeared in the Bellingham Herald. The Cascadia Weekly made a lackadaisical attempt to cover the story that consisted of a small photo caption.
The one truly positive story came from an AM radio station in Bellingham.
We'd expected better, but being a revolutionary isn't about being popular, or getting in the media. It's about results.
As usual, results and protest in general bring out reactionaries. Just look at some of these comments made on Facebook, news stories, and on YouTube.
This slideshow requires JavaScript.
The blatant disregard for human life… the glee at the thought of inflicting death on protesters… these attitudes are consistent with sociopathy. As these people feel about protesters, so many people (and, more importantly, the institutions of power) feel about the planet; make it into hamburger. Run it over. The faster the better. Pedal to the metal. Notch 8.
We assume many of these comments come from railroad employees and families, given the obvious familiarity with rail terminology.
These comments are not a joke. Environmentalists are regularly murdered all around the world. At least 185 environmental activists were murdered in 2015—and probably many more. This rate has been rising in recent years. Here in the U.S., private security sicked attack dogs on indigenous protesters in North Dakota just yesterday.
Violence against those defending the planet is common, accepted, and rarely punished.
Here at Deep Green Resistance, we've been saying for years that this culture is insane. We believe in self defense, radical opposition to industrial civilization and the dominant culture, and an uncompromising stance.
Learn more or join the movement.