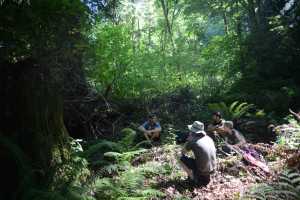 Today we're excited to bring you part 3 of a lengthy interview with Michael Carter, a Utah resident and longtime DGR member who was convicted for acts of eco-sabotage in the 1990's. You can read the first installments: part I, and part II on the DGR News Service website. But first, a few photos from our recent outdoor skills workshop (and yes, that is a bear footprint).
---
I
n 1993 Michael Carter was arrested and indicted for underground environmental activism. Since then he's worked aboveground, fighting timber sales and oil and gas leasing, protecting endangered species, and more. Today, he's a member of Deep Green Resistance Colorado Plateau, and author of the memoir Kingfishers' Song: Memories Against Civilization.
Time is Short spoke with him about his actions, underground resistance, and the prospects and problems facing the environmental movement.
Time is Short: You mentioned some problems of radical groups—lack of respect for women and lack of a strategy.  Could you expand on that?
Michael Carter: Sure.  To begin with, I think both of those issues arise from a lifetime of privilege in the dominant culture.  Men in particular seem prone to nihilism; I certainly was.  Since we were taught—however unwittingly—that men are entitled to more of everything than women, our tendency is to bring this to all our endeavors.
I will give some credit to the movie "Night Moves" for illustrating that. The men cajole the woman into taking outlandish risks and they get off on the destruction, and that's all they really do.  When an innocent bystander is killed by their action, the woman has an emotional breakdown.  She's angry with the men because they told her no one would get hurt, and she breaches security by talking to other people about it.  Their cell unravels and they don't even explore their next options together.  Instead of providing or even offering support, one of the men stalks and ultimately kills the woman to protect himself from getting caught, then vanishes back into mainstream consumer culture.  So he's not only a murderer but ultimately a cowardly hypocrite, as well.
Honestly, it appears to be more of an anti-underground propaganda piece than anything.  Or maybe it's just a vapid film, but it does have one somewhat valid point—that we white Americans, particularly men, are an overprivileged self-centered lot who won't hesitate to hurt anyone who threatens us.
That's a fictional example, but any female activist can tell you the same thing.  And of course misogyny isn't limited to underground or militant groups; I saw all sorts of male self-indulgence and superiority in aboveground circles, moderate and radical both.  It took hindsight for me to recognize it, even in myself.  That's a central problem of radical environmentalism, one reason why it's been so ineffective.  Why should any woman invest her time and energy in an immature movement that holds her in such low regard?  I've heard this complaint about Occupy groups, anarchists, aboveground direct action groups, you name it.
Groups can overcome that by putting women in positions of leadership and creating secure, uncompromised spaces for them to do their work.  I like to reflect on the multi-cultural resistance to the Burmese military dictatorship, which is also a good example of a combined above- and underground effort, of militant and non-violent tactics.  The indigenous people of Burma traditionally held women in positions of respect within their cultures, so they had an advantage in building that into their resistance movements, but there's no reason we couldn't imitate that anywhere.  Moreover, if there are going to be sustainable and just cultures in the future, women are going to be playing critical roles in forming and running them, so men should be doing everything possible to advocate for their absolute human rights.
As for strategy, it's a waste of risk-taking for someone to cut down billboards or burn the paint off bulldozers.  It's important not to equate willingness with strategy, or radicalism and militancy with intelligence.  For example, I just noticed an oil exploration subcontractor has opened an office in my town.  Bad news, right?  I had a fleeting wish to smash their windows, maybe burn the place down.  That'll teach 'em, they'll take us seriously then.  But it wouldn't do anything, only net the company an insurance settlement they'd rebuild with and reinforce the image of militant activists as mindless, dangerous thugs.
If I were underground, I'd at least take the time to choose a much more costly and hard-to-replace target.  I'd do everything I could to coordinate an attack that would make it harder for the company to recover and continue doing business.  And I'd only do these things after I had a better understanding of the industry and its overall effects, and a wider-focused examination of how that industry falls into the mechanism of civilization itself.
By widening the scope further, you see that ending oil and gas development might better be approached from an aboveground stance—by community rights initiatives, for example, that have outlawed fracking from New York to Texas to California.  That seems to stand a much better chance of being effective, and can be part of a still wider strategy to end fossil fuel extraction altogether, which would also require militant tactics.  You have to make room for everything, any tactic that has a chance of working, and begin your evaluation there.
To use the Oak Flat copper mine example, now the mine is that much closer to happening, and the people working against it have to reappraise what they have available.  That particular issue involves indigenous sacred sites, so how might that be respectfully addressed, and employed in fighting the mine aboveground?  Might there be enough people to stop it with civil disobedience?  Is there any legal recourse?  If there isn't, how might an underground cell appraise it?  Are there any transportation bottlenecks to target, any uniquely expensive equipment?  How does timing fit in?  How about market conditions—hit them when copper prices are down, maybe?  Target the parent company or its other subsidiaries?  What are the company's financial resources?
An underground needs a strategy for long-term success and a decision-making mechanism that evaluates other actions.  Then they can make more tightly focused decisions about tactics, abilities, resources, timing, and coordinated effort.  The French Resistance to the Nazis couldn't invade Berlin, but they sure could dynamite train tracks.  You wouldn't want to sabotage the first bulldozer you came across in the woods; you'd want to know who it belonged to, if it mattered, and that you weren't going to get caught.  Maybe it belongs to a habitat restoration group, who can say?  It doesn't do any good to put a small logging contractor out of business, and it doesn't hurt a big corporation to destroy machinery that is inexpensive, so those questions need to be answered beforehand.  I think successful underground strikes must be mostly about planning; they should never, never be about impulse.
TS: There are a lot of folks out there who support the use of underground action and sabotage in defense of Earth, but for any number of reasons—family commitments, physical limitations, and so on—can't undertake that kind of action themselves. What do you think they can do to support those willing and able to engage in militant action?
MC: Aboveground people need to advocate underground action, so those who are able to be underground have some sort of political platform.  Not to promote the IRA or its tactics (like bombing nightclubs), but its political wing of Sinn Fein is a good example.  I've heard a lot of objections to the idea of advocating but not participating in underground actions, that there's some kind of "do as I say, not as I do" hypocrisy in it, but that reflects a misunderstanding of resistance movements, or the requirements of militancy in general.  Any on-the-ground combatant needs backup; it's just the way it is.  And remember that being aboveground doesn't guarantee you any safety.  In fact, if the movement becomes effective, it's the aboveground people most vulnerable to harm, because they're going to be well known.  In that sense, it's safer to be underground.  Think of the all the outspoken people branded as intellectuals and rounded up by the Nazis.
The next most important support is financial and material, so they can have some security if they're arrested.  When environmentalists were fighting logging in Clayoquot Sound on Vancouver Island in the 1990s, Paul Watson (of the Sea Shepherd Conservation Society) offered to pay the legal defense of anyone caught tree spiking.  Legal defense funds and on-call pro-bono lawyers come immediately to mind, but I'm sure that could be expanded upon.  Knowing that someone is going to help if something horrible happens, combatants can take more initiative, can be more able to engineer effective actions.
We hope there won't be any prisoners, but if there are, they must be supported too.  They can't just be forgotten after a month.  As I mentioned before, even getting letters in jail is a huge morale booster.  If prisoners have families, it's going to make a big difference for them to know that their loved ones aren't alone and that they will have some sort of aboveground material support.  This is part of what we mean when we talk about a culture of resistance.
TS: You've participated in a wide range of actions, spanning the spectrum from traditional legal appeals to sabotage.  With this unique perspective, what do you see as being the most promising strategy for the environmental movement?
MC: We need more of everything, more of whatever we can assemble.  There's no denying that a lot of perfectly legal mainstream tactics can work well.  We can't litigate our way to sustainability any more than we can sabotage our way to sustainability; but for the people who are able to sue the enemy, that's what they should be doing.  Those who don't have access to the courts (which is most everyone) need to find other roles.  An effective movement will be a well-organized movement, willing to confront power, knowing that everything is at stake.
Decisive Ecological Warfare is the only global strategy that I know of.  It lays out clear goals and ways of arranging above- and underground groups based on historical examples of effective movements.  If would-be activists are feeling unsure, this might be a way for them to get started, but I'm sure other plans can emerge with time and experience.  DEW is just a starting point.
Remember the hardest times are in the beginning, when you're making inevitable mistakes and going through abrupt learning curves.  When I first joined Deep Green Resistance, I was very uneasy about it because I still felt burned out from the '90s struggles.  What I've discovered is that real strength and endurance is founded in humility and respect.  I've learned a lot from others in the group, some of whom are half my age and younger, and that's a humbling experience.  I never really understood what a struggle it is for women, either, in radical movements or the culture at large; my time in DGR has brought that into focus.
Look at the trans controversy; here are males asking to subordinate women's experiences and safe spaces so they can feel comfortable.  It's hard for civilized men to imagine relationships that aren't based on the dominant-submissive model of civilization, and I think that's what the issue is really about—not phobia, not exclusionary politics, but rather role-playing that's all about identity.  Male strength traditionally comes from arrogance and false pride, which naturally leads to insecurity, fear, and a need to constantly assert an upper hand, a need to be right.  A much more secure stance is to recognize the power of the earth, and allow ourselves to serve that power, not to pretend to understand or control it.
TS: We agree that time is not on our side.  What do you think is on our side?
MC: Three things: first, the planet wants to live.  It wants biological diversity, abundance, and above all topsoil, and that's what will provide any basis for life in the future.  I think humans want to live, too; and more than just live, but be satisfied in living well.  Civilization offers only a sorry substitute for living well to only a small minority.
The second is that activists now have a distinct advantage in that it's easier to get information anonymously.  The more that can be safely done with computers, including attacking computer systems, the better—but even if it's just finding out whose machinery is where, how industrial systems are built and laid out, that's much easier to come by.  On the other hand the enemy has a similar advantage in surveillance and investigation, so security is more crucial than ever.
The third is that the easily accessible resources that empires need to function are all but gone.  There will never be another age of cheap oil, iron ore mountains, abundant forest, and continents of topsoil.  Once the infrastructure of civilized humanity collapses or is intentionally broken, it can't really be rebuilt.  Then humans will need to learn how to live in much smaller-scale cultures based on what the land can support and how justly they treat one another.  That will be no utopia, of course, but it's still humanity's best option.  The fight we're now engaged in is over what living material will be available for those new, localized cultures—and more importantly, the larger nonhuman biological communities—to sustain themselves.  What polar bears, salmon, and migratory birds need, we will also need.  Our futures are forever linked.
Time is Short: Reports, Reflections & Analysis on Underground Resistance is a bulletin dedicated to promoting and normalizing underground resistance, as well as dissecting and studying its forms and implementation, including essays and articles about underground resistance, surveys of current and historical resistance movements, militant theory and praxis, strategic analysis, and more. We welcome you to contact us with comments, questions, or other ideas at timeisshort@deepgreenresistance.org