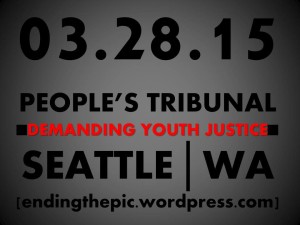 There is a state of emergency for our youth of color in the United States. Ending the Prison Industrial Complex [EPIC] is responding to this state of emergency by organizing a People's Tribunal on the US Juvenile Justice System. A people's tribunal is a people's court. Folks most impacted by the Prison Industrial Complex and EPIC are planning to hold the King County juvenile justice system accountable for its crimes against youth and families of color, and for its crimes against humanity.
Date: Saturday, March 28. 9:30am – 6:00pm
Location: Seattle University Campion Hall. 901 12th Ave, Seattle, Washington 98122
The People's Tribunal will be a one-day event that is intended to speak truth-to-power, to educate our community about how the Prison Industrial Complex [PIC] operates in Seattle-King County, to allow those most impacted by the PIC to hold this system accountable, and to help organize our community to be part of an anti-racist movement that is determined to make the PIC obsolete.
This one-day event is led by youth who have been working to stop the building of a new King County Children and Family Justice Center (i.e., youth jail). The People's Tribunal will convene those most impacted by this system, their families, jurists, special guests, artists, policy makers, community organizers, educators, and activists from around the world. The People's Tribunal will lift-up testimonials from those most impacted by the system and their families. It will involve popular education, artistic performances, workshops, and networking sessions that are designed to strengthen our local No New Youth Jail Movement and the international movements to end the PIC.
You will also have an opportunity to hear directly from politicians, developers, law enforcement, judges, and other folks who support investing $210 million dollars into building a King County Children and Family Justice Center (i.e., youth jail). We have "subpoenaed" these key stakeholders so that those most impacted, their families, and the community can hold them accountable.
This is a national call of conscience to all who seek a new day for youth. Those who have ears, let them hear! Those who have eyes, let them see!
RSVP :: http://peoplestribunal.bpt.me/
EMAIL :: endingthepic@gmail.com
Donate :: gofundme.com/peoplestribunal