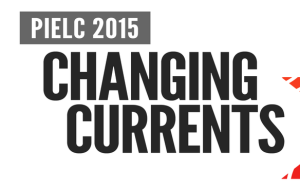 At least 6 members of Deep Green Resistance will be speaking at the Public Interest Environmental Law Conference (PIELC) in Eugene, Oregon this weekend, between March 7th and 8th.
The PIELC Conference is widely known as an environmental conference that presents a wide range of radical views on environmental topics, and includes many grassroots activists in addition to lawyers.
Deep Green Resistance (DGR) has been a presence at PIELC for a number of years. Co-founders Lierre Keith (2014) and Derrick Jensen (2009) have both keynoted the event in the past. This year, 6 members of Deep Green Resistance will be participating in 3 different panels.
1. Truth, Lies, and False Solutions: a Real Discussion About Green Energy

Saturday, March 7th  –  3:45 pm – 5:00 pm
Green technology: will it save the planet, or is it a false solution? Join us for a provocative discussion on the technologies that have become the core of the modern environmental movement. How do these technologies relate to human rights? What is the difference between industrial-scale alternative energy and community implementations? What are the environmental costs of green power?
Panelists: Saba Malik and Max Wilbert (both of Fertile Ground Environmental Institute and Deep Green Resistance)
2.Tsilhqot'in and Canadian First Nations Sovereignty

Sunday, March 8th  –  9:00 am – 10:15 am
The Supreme Court of Canada's recent Tsilhqot'in Nation v. British Columbia decision empowered First Nations seeking to assert title over their traditional territories and combating unwanted development on their lands. Eugene Kung and William Falk will explain what the decision says, what it does not say, and strategies for carrying the Tsilhqot'in decision's momentum forward. They will also describe the growing strength in the British Columbia environmental movement.
Panelists: William Falk (Vancouver Island Community Forest Action Network, Deep Green Resistance) and Eugene King (West Coast Environmental Law Center)
3. The Crisis of Human Supremacy
Sunday, March 8th  –  10:30 am – 11:45 am
Why do some humans listen to nonhumans and others do not? How might our behaviors change if we allowed the speech of nonhuman actants into the political realm? How might this be accomplished? These are important questions with deep implications for the way we discuss potential solutions to ecological crises. This presentation will challenge long-standing thought about what constitutes a public and how we define "public interest."
Panelists: Dillon Thomson, Jonah Mix, and Carson Wright (all of Deep Green Resistance)
---
We hope you will join us at the event for these DGR members speaking engagements. The PIELC conference will include many dozens of other panels and keynote speakers, some which look really great.. The full schedule is available here.